FALL COLOR TOURS
Mt. Pisgah Dune Climb
Experience the fall colors as you climb MOUNT PISGAH, a towering dune east of Holland State Park, which is accessible via a boardwalk and stair system. With its apex 157 feet above Lake Michigan, the boardwalk culminates with scenic views of Lake Macatawa, Lake Michigan and Big Red Lighthouse, surrounded by a heavily wooded area in vibrant hues of orange, red and yellow. 

Fall Color Driving Routes
Should you prefer to view the fall colors from the comfort of your car, there are a variety of routes within the Holland area to enjoy the scenery. 
Full maps of the driving routes can be found HERE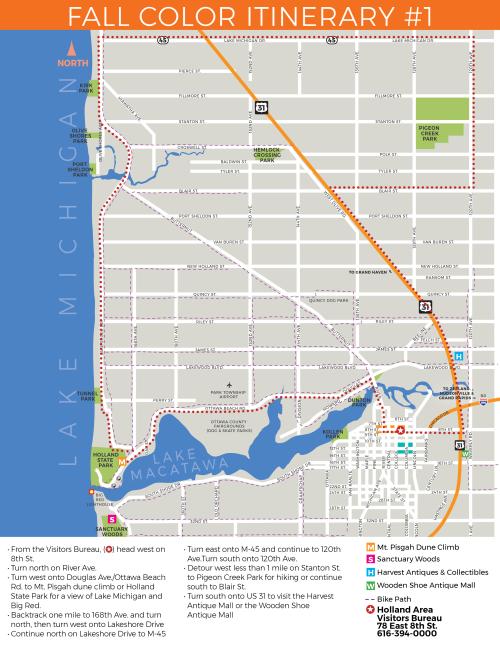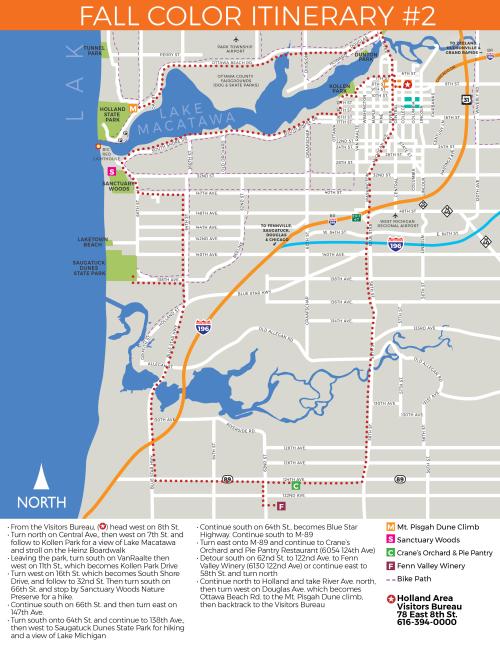 Fall Fest 
8th Street, Downtown Holland
Friday, Oct. 7th  
Saturday, Oct. 8th 

Eight of the nation's best professional pumpkin carvers will kick off this year's Fall Fest by carving jack-o-lanterns along 8th Street, in Downtown Holland.  After the sun sets, the jack-o-lanterns will be glowing for all to enjoy! We promise you won't see jack-o-lanterns like this on your neighbor's doorstep on Halloween night! 
​FALL FEST continues on Saturday, October 8th, from 10:00 AM – 1:00 PM, at the Holland Farmers Market.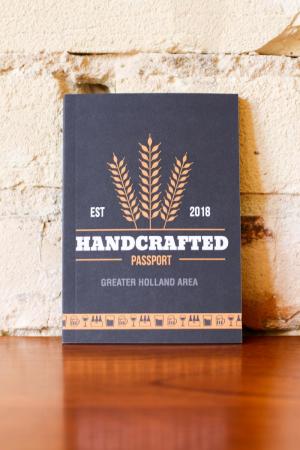 Handcrafted Passport
Get a real taste of the local hops, grapes, and spirits scene by experiencing our very own Handcrafted Beverage Passport! Visit any of the participating breweries, wineries, or distilleries and enjoy the beverage that they are known for, hear the individual establishment's story, and learn about their handcrafted product. The passport provides a space on each page to jot down tasting notes leaving a handy reference for visitors and locals alike! 

When you take the Passport to a participating establishment, it will be stamped with each artisan's specially designed stamp; those collecting all of the stamps can return their Passport to the Visitors Bureau for verification where they will receive a custom-stamped "Handcrafted in Holland" bar blade, compliments of the Holland Area Visitors Bureau.

Click here for details and to see a list of participants.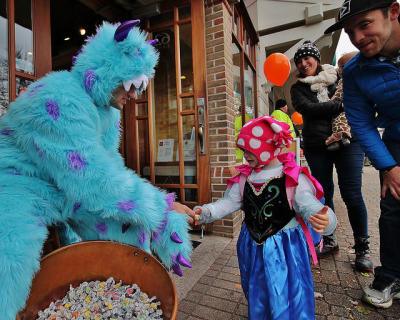 HALLOWEEN FUN
Trick-Or-Treat
Saturday, Oct 29th from 10:00 AM - 12:00 PM
8th Street, Downtown Holland

Come to Downtown Holland and spend the morning trick-or-treating with your children at participating stores!
Enjoy seeing the community in costumes for this family-friendly event!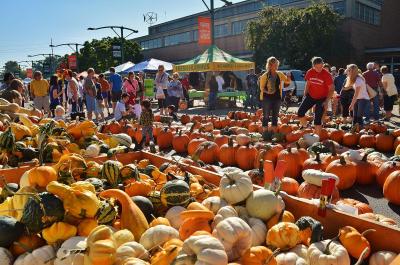 The Farmers Market

Be sure to stop by the Holland Farmers Market on Wednesday's and Saturday's from 8:00am to 2:00pm.  With over 75 local farmers and vendors, there are plenty of options to shop for your favorite local produce and goodies.  Enjoy food trucks and live music while you browse an array of baked goods, beverages, cheese, condiments, dry goods, eggs, fruit, grains, herbs, meat, mushrooms, ready to eat meals, snacks, plants and flowers, and vegetables.

Currently In Season
Cantaloupe
September thru September
Broccoli
September thru October
Carrots
September thru October
Greens
September thru October
Leeks
September thru November
Parsnips
September thru December
Radishes
September thru December
Rutabagas
September thru December
Turnips
September thru November
Pumpkins
September thru October