The Holidays are always a magical time, no matter where you spend them. So, what makes Holland, Michigan so special? Aside from our small-town charm making Holland constantly feel like the setting of a Hallmark Christmas movie, we have some of the most magical events that you really can't find anywhere else in the United States.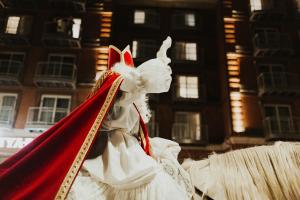 Sinterklaas is a Dutch figure who is based off the Patron Saint Nicholas, bringing joy and gifts to the good children of the Netherlands. We brought him here to Holland, Michigan, to bring that same joy to our community and visitors alike. Sinterklaas Eve is a special event that Holland presents, where Sinterklaas makes his first appearance, parading through a brightly decorated downtown Holland followed by those who wish to join him, with his procession ending at our Holiday Kerstmarkt. At the Kerstmarkt, Sinterklaas takes the time to pose in photos with kids and teach them about his traditions.  He might even have a special gift with him this year to give out to the good boys and girls of Holland, MI!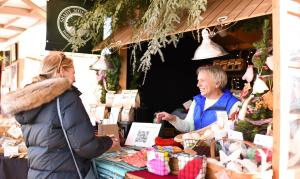 The Holland Kerstmarkt is truly one of a kind. Years ago, a few members of the Holland Visitors Bureau staff traveled to Europe on a mission to experience traditional European Christmas markets and bring back inspiration for one of our own. To which they succeeded, and the Holland Kerstmarkt has been lively and present ever since. Wooden booths are set up and decorated every year, and new artisan vendors take them over to sell their wares and prepare us for the Holidays with our loved ones. Sip on hot cocoa and munch on delicious food as you find that perfect gift for everyone you're shopping for this year!
Magic at the Mill, Holland's newest Holiday tradition, will be one for the books. Hundreds of twinkling lights dance across the gardens, outline the shops, dangle from the trees, and dress up our beloved DeZwaan Windmill. Everywhere you look, there will be holiday magic, and Sinterklaas will be there too! Warm beverages and tasty snacks, surrounded by the warm glow of a thousand glimmering lights; Magic at the Mill is a holiday experience to be had by all.
The Parade of Lights, a simply gorgeous event that leaves everyone feeling the magic of the Holidays. Nearly 100 floats, decorated in thousands of brilliant and colorful lights follow Santa Claus as he parades his arrival through the streets of downtown Holland. Adults and children alike fill the sidewalks and watch with excitement in their eyes as the floats make their way down 8th street to the Holiday Kerstmarkt. 
The Holidays in Holland, Michigan, are not to be missed. From parades and special appearances by our beloved holiday figures, to thousands of beautiful twinkling lights and handmade, artisan gifts; Holland has something for everyone to feel the magic this holiday season. 
Collect more ideas for your holiday itinerary through our Pinterest page!