Summer is a great time of year for some R&R. And in Holland, we like to add a little B&B – as in Bike and Beach. After all, when you've got an incredible destination like the Lake Michigan beach at Holland State Park right in your backyard, you tend to build your best days around it. 
We'd love for you to experience the beach at Holland State Park this summer and everything else that makes the Holland Area so special, from breakfast spots and bike trails to the many intriguing places for inventive food and drink. So come on over for the day and see for yourself!
To help plan your visit, here's a printable itinerary. And here's some more detail on each of the six destinations that combine to make the perfect summer day in Holland!
deBoer Bakkerij & Dutch Brothers Restaurant – Start the day right with breakfast at a local favorite, the authentic Dutch bakery and restaurant opened by immigrants from The Netherlands back in the 1950s. There are two locations: an award-winning, full-service restaurant on the north side of Lake Macatawa across from downtown Holland, and a fast-casual shop south of Lake Macatawa near Kollen Park. At both places you'll find the bakery's signature items including artisan breads, pastries, donuts, cookies, bars and, of course, fresh-roasted koffie.

Another great option is the new KIN Coffee and Craft House on Ottawa Beach Road, which offers a variety of delicious coffee, tea, cold brew and smoothies for a relaxing start to your day as well as baked goods and toasts. You can even pick up some craft supplies for painting or journaling during your B&B day.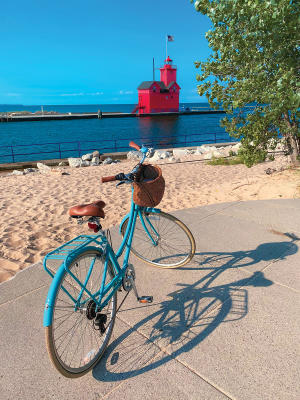 Cross Country Cycle – It's just a short drive from the bakery to Holland State Park. Better yet, pop across the street and rent a bike from Cross Country Cycle. It's only 5 miles to the beach, plus there's another 150 miles of bike routes you can explore through he Holland area including paved pathways for comfy cruisers and off-road dirt trails for mountain bikes. There's a variety of bicycle styles to rent, including tandems and burley trailers for little ones, and you can keep them all day long for one low, flat daily rate. 

Holland State Park – The massive beach at Holland State Park provides plenty of space to lay out some towels and put up an umbrella, even on the busiest of summer days. You can work on your tan, play spikeball, go for a swim in Lake Michigan, watch boats go through the channel, have fun on the playground, walk the pier and snap gorgeous photos of the iconic Big Red lighthouse. The on-site café offers sandwiches, burgers and the like, plus ice cream! There's also a shop with any beach supplies you may need, as well as restrooms and a changing area. So, go ahead, kick back and stick your toes in the sand to enjoy some R&R, Holland style.

Itty Bitty Bar & Grille – It's only five miles back to Cross Country Cycle, but after some beach time you'll probably need to refuel along the way. There's a little "five star dive bar" on Ottawa Beach Road where the laid back vibe will make you feel right at home. The food is made from scratch with fresh, organic ingredients. You can go light with a salad or sammie, make your own pizza pie or enjoy one of the kitchen's many creative entrées.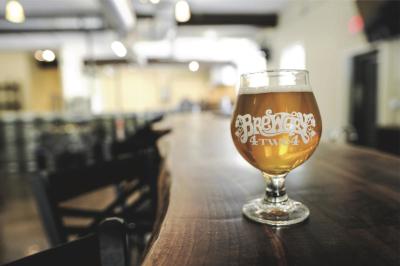 Brewery 4 Two 4 – After returning your bike, walk across the street for a tasty local beverage from Brewery 4 Two 4 (which are the last three digits of the zip code). The small neighborhood brewery with 20 taps serves a wide variety of delicious, handcrafted beverages including pales, IPAs, saisons, stouts, fruit beers, barrel-aged beers and ciders, too. You can throw some darts or play a boardgame while you're here enjoying a drink to toast the day – and to cheer the night to come.

Obstacle No. 1 and Poquito – Head back to your Holland-area hotel to get cleaned up and ready for a night out on the town. There are so many fun places for great food, drinks and live music. May we suggest Obstacle No. 1 for pre-dinner drinks? The craft cocktail lounge on Eighth Street downtown has an endless summer drink menu, with special Tiki Tuesday and Whiskey Wednesday themes during the week. You can also order a variety of delicious small plates from the kitchen. Or, if you prefer, sneak over to Poquito right in the same building to share some incredible Spanish tapas!
So, there you have it! The perfect day in Holland for summertime R&R, or B&B – Bike and Beach. Of course, B&B also stands for Bed & Breakfast, and there are lots to choose from in the Holland area for your stay, along with hotels, cottages, campgrounds and more. Lodging in Holland is as varied as the travelers who visit, so you're sure to find a place to stay in the Holland area that's just your style.