Holland State Park
Holland State Park is one of Michigan's most visited state parks. Once you take a look at the beautiful beach or take in a sunset over Lake Michigan, you'll know why! The expansive beach is open to all who have purchased a day pass or a Recreation Passport. View Big Red Lighthouse directly across the channel to the south, or take a stroll north along the beachfront. Holland State Park offers fishing, a boat launch, a concession stand with modern restrooms and changing area, a small playground and camping.  During peak hours (weekends, holidays), we recommend to arrive early.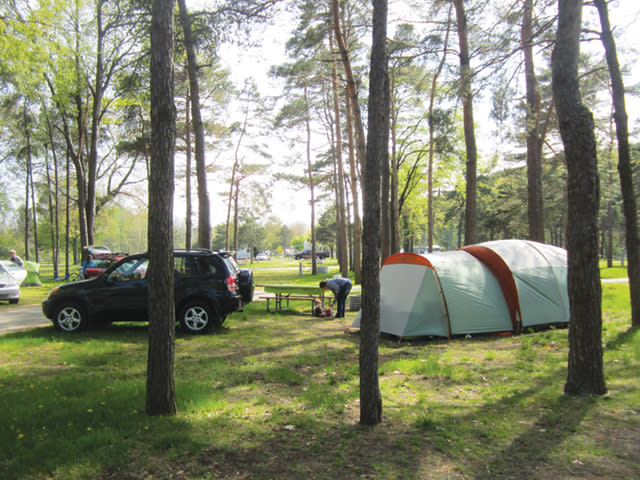 There are two campgrounds- the wooded Lake Macatawa campground, and the beachside campground. For more information about the campgrounds, visit the Michigan DNR website.
Michigan residents: THERE IS NO DAY PASS. An Annual Passport is $17 at the Park. 
Out of State Residents: Annual Pass $36 or Daily Admission $10
Check out our 24/7 Beach cam at the Holland State Park!
2215 Ottawa Beach Rd

(616) 399-9390
Michigan residents: THERE IS NO DAY PASS. An Annual Passport is $17 at the Park.Out of State Residents: Annual Pass $34or Daily Admission $9. Holland State Park is famous for its expansive, sandy beach on Lake Michigan and Lake Macatawa. There's plenty of room for sunbathing…
2215 Ottawa Beach Rd

(616) 399-9390
Holland State Park offers two large campgrounds: The Lake Macatawa Campground offers 211 campsites with 11 paved lots. Grassy and wooded sites available. Close to bike path, beach, and pier boat launch 1 mile from entrance, close to inland lake Macatawa and only mile from Lake…
2238 3rd Ave

(616) 738-4810
The towering dune east of the Holland State Park is accessible via a boardwalk and stair system. With its apex 157 feet above Lake Michigan, the boardwalk culminates with breathtaking views of Lake Macatawa, marinas, Lake Michigan and Big Red. Mount Pisgah can be accessed off…
2278 Black Lake Avenue

(616) 738-4810
Parking Lot (two hour limit) Picnic tables, Fishing and overlook decks, Canoe/kayak access, Access to Mt. Pisgah