Holland, Michigan is quite the summer destination, we'll give you that. With our beautiful parks, our vibrant downtown and outdoor dining, and our white sandy beaches (wouldn't be a beach town without one of those!), summer is the assumed time to visit Holland, Michigan, right?
WRONG. Summer is a time to be in Holland, MI, but so is the winter! Snowmelt makes walking around our Downtown area so easy and clean. With the largest publicly owned municipal Snowmelt system in North America, Holland's downtown Streets and sidewalks are snow free! There is no salt to ruin your shoes, and we have plenty of winter events that you just don't want to miss out on.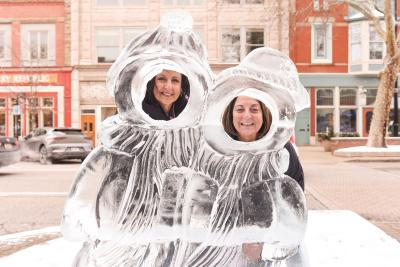 After its disappearance in 2015, Holland on Ice is returning by popular demand! February 3rd & 4th in Downtown Holland, Michigan, there will be scattered ice sculptures and carvings along 8th street. On Saturday, there will be live ice sculpture carving in GDK Park. The social district will be open (huge plus!), and you'll be able to walk about downtown to enjoy the beautiful custom ice pieces.
Alongside Holland on Ice is the annual Meltdown Sale (score!). Participating businesses offer deep discounts to get old merchandise off their shelves to make room! Saunter through our snow free downtown and see what kind of sales you can take advantage of in any of the participating small businesses.
Girlfriends Weekend will be held on March 3rd through March 5th this year! Get all the girls together and plan a stay here in Holland, Michigan. Shop our beautiful downtown and receive exclusive discounts from participating businesses, chances to win great giveaways, and the opportunity to participate in fun activities and classes offered by a few local businesses around town! This is your chance to relax and recharge with all your girlies by your side as you have some fun and enjoy what Holland has to offer!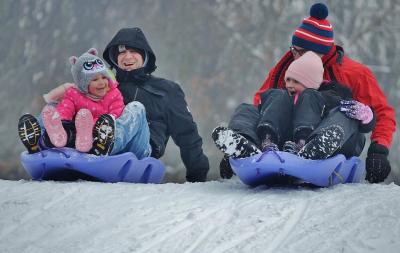 Outside of our events, Holland, Michigan's park systems are worthy of your exploration! We have some gorgeous parks here, and some offer more amenities during the winter months, such as snowshoe rentals and cross-country skiing! Pigeon Creek Park, for example, offers ski rentals, a warming house, groomed cross country ski-trails, and a designated sled hill! Other trails such as Hemlock Crossing offer snowshoe rentals with groomed trails, and a nature center!
Clearly, Holland, Michigan is a winter destination just as much as it is a summer destination. We're looking forward to seeing you around Holland or enjoying any of our gorgeous trails!
Check out our Instagram and Pinterest for more ideas and information!